The history of "Middle Branch"………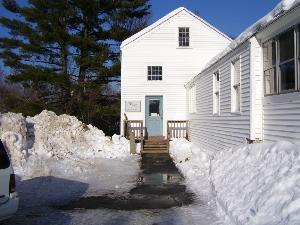 Middle Branch Engineering was founded by Stanley Littlefield in the late sixties or early seventies. The original office was in the Conant House in the Village of Alfred. Stanley was a registered engineer and in those days it was common for engineers to perform surveying tasks. It was not until the mid seventies when the State of Maine required a surveyor or engineer to be licensed to practice and certify documents.
In 1979, Rodney E. Chadbourne, PLS acquired Middle Branch Engineering from Stanley and renamed the business Middle Branch Engineering, Land Surveying, Inc.. Rodney eventually moved the office to a small ranch style building on Route 111 and School Street near the recreation fields on the southeasterly side of Alfred Village. During his ownership (1989) he shortened the name to Middle Branch Land Surveyors, Inc as there were no longer engineers on staff.
In 1992, Robert "Butch" Yarumian aquired the business from Rodney, as Rodney decided to move up the coast to Deer Isle. Butch renamed the business to Middle Branch Land Surveyors and Boundary Consultants and moved the business to the barn of the old farm house located to the rear of the York County Court House, which remains our present location at 1A Depot Street here in Alfred.
In 1996, Nadeau & Lodge, Inc. a partnership owned by Jim Nadeau, PLS and Brad Lodge, PLS purchased Middle Branch Land Surveyors and Boundary Consultants. The new name would now be Middle Branch Professional Land Surveyors, Inc. a division of Nadeau & Lodge, Inc. The partnership managed two offices for nine years, one here in Alfred, the other in Portland and in 2005 the partnership dissolved. Brad became the sole owner and principal of the business now called, Middle Branch, LLC, Professional Land Surveyors.
So, that's where you'll find us, "in the big white barn at the rear of the York County Court House, 1A Depot Street", stop by or give us a call to talk with us, we are eager to offer our professional experience, integrity and services. Almost all of the previous 35 years of "Middle Branch" records, plans and files are available for our reference.